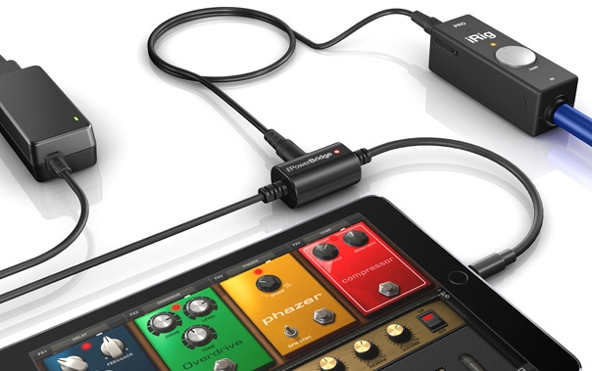 Charge your iPhone, iPad or iPod touch while using your favourite IK Multimedia digital iRig accessories and apps
IK Multimedia, today announced that they are shipping iRig PowerBridge – the elegant answer to every mobile musician's power management dilemma. iRig PowerBridge is the performance and charging system that lets musicians continuously create music and play with their favorite digital IK Multimedia iRig accessories while sending a stream of conditioned power to keep their iPhone, iPad or iPod touch charged.
With only one Lightning (or 30-pin) port available, it was not possible to connect an accessory like an interface, mic or controller and keep the mobile device charged for long extended playing sessions without running the risk of exhausting battery power – until now.
iRig PowerBridge supplies a continuous stream of conditioned charging power to their device. Players simply plug their IK Multimedia digital accessory into the iRig PowerBridge via the included Mini-DIN cable, then plug the iRig PowerBridge into their device via the Lightning or 30-pin connector. Once plugged into a power source, iRig PowerBridge provides a continuous supply of conditioned power for charging and non-stop operation plus a pristine digital audio signal path and MIDI control data.
iRig PowerBridge works with all of IK's high-quality digital audio and MIDI interfaces, microphones and controllers like iRig HD,  iRig PRO, iRig MIC Studio,  iRig MIC HD, iRig Keys,  iRig Keys PRO, iRig Pads,  iRig MIDI 2 and more.
Pricing and availability
iRig PowerBridge comes in two versions – one for Lightning and one for 30-pin devices – and is available now from music and electronics retailers worldwide, and from the IK online store for $69.99 U.S.
NOTE: To use iRig PowerBridge, current users of any iRig digital accessories will need to update their device's firmware by visiting www.ikmultimedia.com/firmware
For more information, please visit www.irigpowerbridge.com
via: IK Multimedia