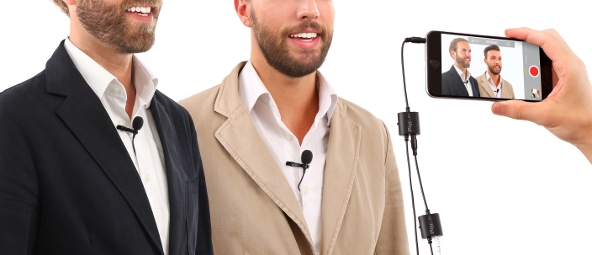 October 20, 2015 – IK Multimedia is pleased to announce that it's now shipping iRig Mic Lav, the ultra-affordable, compact, chainable and professional-quality lavalier microphone with built-in monitoring ability for iPhone, iPad, iPod touch and Android.
It features a high-quality omnidirectional condenser capsule, a foam pop shield, a durable secure mounting clip, on-board monitoring output and a generous cable length. It has a chainable input jack for using two mics with one device and a comprehensive arsenal of convenient features all bundled into a rugged, durable and roadworthy lavalier microphone that can be used with virtually all mobile devices.
Powered up with apps
iRig Mic Lav is ready to go right out of the box thanks to its powerful suite of included apps. iRig Recorder* for iPhone, iPad and Android are straightforward audio capture apps that are great for everyone from journalists who need to make recordings in the field to podcasters who want to broadcast while on the go, and everyone in between. VocaLive™* is an expandable, powerful effects processor and multi-track recording app that's perfect for adding a creative touch to recordings.Mic Room* is a powerful and easy-to-use microphone modeling app for iPhone or iPad. EZ Voice™* for iPhone, iPad and Android are streamlined and easy-to-use apps that make it easy to practice and record over any song stored in the device music library.
(*Free versions are available on the App Store, Google Play Store or Samsung Galaxy Apps.)
Pricing and availability
iRig Mic Lav is now shipping and available from music and electronics retailers worldwide, and from the IK online store, for only $49.99 (excluding taxes).
iRig Mic Lav 2 Pack, a bundle that comes with two iRig Mic Lav units, is also available for preorder for just $79.99 (excluding taxes) and will be available in November.
via IK Multimedia