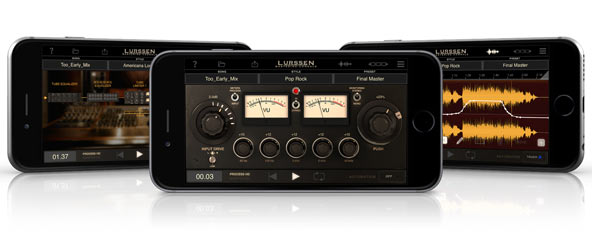 IK Multimedia has announced the release of Lurssen Mastering Console, the first iPhone mastering app that lets musicians master their mixes with a model of the console and settings used by the engineers at Lurssen Mastering, Inc., in Los Angeles, California. Lurssen Mastering Console is a totally unique approach to audio mastering that incorporates the Lurssen "whole is greater than the sum of its parts" philosophy by recreating not only the gear chain used but the interactions and influence the processors have on other gear in the chain during the mastering process. Lurssen Mastering Console is available as a universal iPhone/iPad app and it is also available separately for Mac/PC.
The whole world's a stage…and a new critical listening environment 
Users can master on the go and reference their work in any environment, from their car stereo to the hottest local club or venue, right from their iPhone. Referencing a mastered product has never been so portable, easy or fun. The user can now expedite the tedious process of seeing how their material translates across the board of playback environments — just one of the many perks users will enjoy by having a world-renowned mastering studio in their pocket.
Under the Hood
Lurssen Mastering Console features a processor chain that's built to reproduce the order, gear, hookups and settings used by the team at Lurssen Mastering, Inc. to master virtually every style of music today. Lurssen Mastering Console is unique because it recreates the physical interactions throughout the chain. It recreates the influences any one processor has on the rest of the chain and how a setting change affects the performance and auditory results of the chain. This revolutionary approach provides for the synergistic "whole is greater than the sum of its parts" results.
Full of Mastering Mojo
Lurssen Mastering Console provides mind-blowing results in record time through an intuitive set of controls and settings. "Styles" presets created by Gavin Lurssen, Reuben Cohen and the team at Lurssen Mastering, Inc., define the gear chain and provide the settings for virtually every genre including Rock, Country, Americana, Pop, EDM and more. In essence, Lurssen Mastering, Inc.'s Grammy Award-winning secrets come "baked in" to the app itself. And all of this was specifically optimized to enhance the user experience for the smaller screen real estate found on iPhone.
Pricing and availability
Lurssen Mastering Console for iPhone/iPad is a free universal app that operates in demo mode (with no audio export features and noise bursts during playback). Users can unlock full functionality via in-app purchase:
Play / Process – $49.99 via in-app purchase
Enables unrestricted playback, monitoring and processing, 48kHz maximum sample rate of the DSP processing and export of compressed formats such as AAC & OGG.

HD Engine – $99.99 via in-app purchase
Enables the HD Engine, allowing unrestricted playback, processing and monitoring at 88.2/96kHz sample rates for DSP and export, selectable dithering and export of uncompressed formats such as WAV & FLAC 
(requires Play/Process mode to be enabled).

Mac/PC version:
Lurssen Mastering Console for Mac/PC is available separately for a limited-time introductory price of $199.99 from the IK online store and select authorized retailers.
All Prices in USD
-via IK Multimedia